5 Day Itinerary
To truly immerse yourself in the beauty of the Teton Range and Yellowstone, carve out five days (or more!)  You'll have time to visit all the best sights and to sample a wide variety of activities.  Relax and enjoy not just the scenery, but the culture that makes this part of the country so unique and memorable. Here's an example of how you could make the most of your vacation:
42 Mile Scenic Loop Drive (Day 1)
Your first day, get acquainted with the peaks, meadows and glacial lakes that make up Grand Teton National Park through a scenic drive. Starting from Jackson Lake Lodge, this 43-mile loop tours it all with plenty of opportunities to stop, stretch your legs and get a closer look. From John D. Rockefeller Jr. Parkway, turn south on Teton Park Road and follow the road along Jackson Lake about five miles. Turn left (east) on Signal Mountain Road and follow it up to Signal Mountain, where you'll find panoramic views of the entire valley. Head back to Teton Park Road and continue south to Jenny Lake. At South Jenny Lake, you can take a scenic boat ride across the lake, or set off on a day hike to Hidden Falls or Inspiration Point. From Jenny Lake, continue south to Moose, the southernmost outpost within the national park. Moose offers a visitor center complete with regional exhibits and bookstore. Leaving Moose, turn left (north) on US Hwy 26/89/191, which crosses the scenic flats above the Snake River. Make a stop at the Glacier View Turnout and the Snake River Overlook, which offer priceless views. Continue on to Moran Junction, and turn left for the final stretch back to Jackson Lake Junction.  Grand Teton Scenic Drive Maps
Breakfast Lake Cruise (Day 2)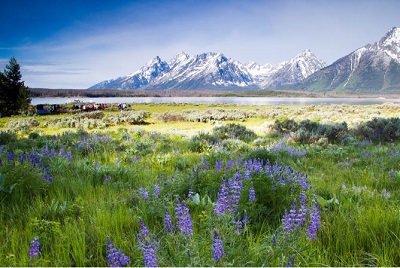 Enjoy freshly prepared pancakes, trout, potatoes, muffins, and more on Elk Island in view of Mount Moran.  As you cruise to the island, you'll learn about the history, geology and more of Grand Teton National Park.  After breakfast, take a short hike to enjoy sweeping views of the lake and Teton Range.  Lake Cruise Information
Get Lunch To Go
Many visitors enjoy packing a picnic lunch, biking a short distance to a scenic spot and having a picnic before biking back. If you have young children or don't enjoy biking, park shuttles can take you where you want to go. Ask about transportation options at the front desk.  The Colter Bay Village Grocery Store has a wide variety of items that are perfect for a packed lunch.
Bike Path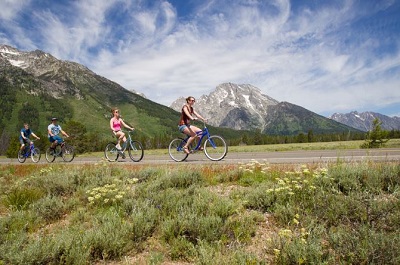 In summer, the roads throughout the national park can get crowded. So why not explore on two wheels instead? A unique, multi-use pathway opened to the public in 2009, extending from the town of Jackson, north to Moose Junction and along Teton Park Road to the South Jenny Lake area. It's perfect for biking and lets you view some of the best spots in the park at your own pace.  Multi-Use Pathway Map & Biking Information
The section of multi-use pathway that extends through Grand Teton National Park opens seasonally after snow has melted and park maintenance workers have swept it. Another section follows the National Elk Refuge from Jackson to Gros Ventre Junction; it is closed from November 1 to April 30 due to elk migration. Ask at the activity desk about bike rentals in the park, or visit one of the outfitters in Jackson.
Visit Yellowstone (Day 3)
Yellowstone is within easy reach by car, so plan to spend a day touring some of the famous highlights there. Start the day early with a hearty breakfast at the lodge and then head up via John D. Rockefeller Jr. Parkway. After entering the park from through the south entrance, make a stop at West Thumb and the Grant Village area. West Thumb Geyser Basin is the largest geyser basin on the shores of Yellowstone Lake. The Grant Village Visitor Center tells the geologic history of the area and offers maps for short hikes and wildlife watching. From here, continue west to Old Faithful, where there's a visitor center, restaurant, and informational exhibits. Schedules are posted for when the geyser erupts. While you're in the area, you can hike the series of boardwalks that take you deeper into the thermal zone. You'll see other predicted geysers like Castle, Daisy, Riverside and Grand, plus Beauty and Chromatic pools. In all, this area is home to the highest concentration of geysers in the world. Be sure to bring your camera!
If there's time, continue further north, deeper into the park to Mammoth Hot Springs. These terraced springs are constantly changing shape and color as the water carries dissolved calcium and bicarbonate and deposits it along the terraces. Minerva terrace is particularly colorful with deposits of blue-green algae and orange/red cyanobacteria that collect in the pools.
Have dinner in Yellowstone or make the drive back to Jackson Lake Lodge and one of its three restaurants.  Yellowstone National Park Information
Visit the Town of Jackson (Day 4)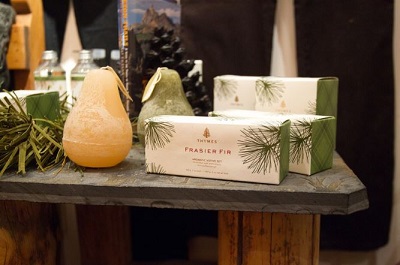 Today, spend the day exploring Jackson Hole, the long valley that includes Jackson, the area's biggest town. Walk under the giant archway of elk antlers to the center of town. Grab coffee and a pastry at The Bunnery or Cowboy Coffee Company. Throughout town, you can browse local shops that sell western wear, art and photography, souvenirs, or outdoor equipment for hiking, biking, fishing, and more.
Ride the Arial Tram
For a change in perspective, ride the Aerial Tram 4,139 vertical feet from the base of Teton Village to the top of Rendezvous Mountain. The 15-minute ride is thrilling, but not as much as the 360-degree views at the top, which encompass Grand Teton National Park, Snake River Valley, and the town below. Grab a bite to eat at Corbet's Cabin on the summit, or ride the tram back down to town where you'll find a variety of restaurants.
Visit the National Museum of Wildlife Art
If you have time on your way back to the park, stop by the National Museum of Wildlife Art, which overlooks the 25,000-acre National Elk Refuge just north of town. Besides the views of the refuge, the museum houses fine art, an impressive library, kid-friendly exhibits, a café, and rotating exhibitions you won't want to miss. Guided tours of the Elk Refuge are also an option. Ask about availability.
Golf (Day 5)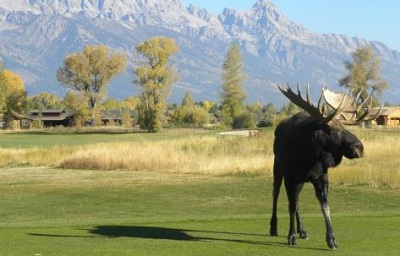 On your last day, carve out some time to relax. If you enjoy golf, book a tee time at Jackson Hole Golf and Tennis Club. The 18-hole course, designed by Robert Trent Jones Jr., is considered Wyoming's best golfing. The mountain views offer the perfect backdrop for a day on the links. The Club is open to the public and is located just outside the park on the way to Jackson Hole.
Visit the Spa
After that, treat your body to some pampering at one of the area's luxurious spas. A local favorite is Solitude Spa, located in Teton Village in Jackson. Inspired by the high alpine lakes in Grand Teton National Park, Solitude spa offers private treatment rooms, a couples' suite, plus a 24-person rooftop hot tub with panoramic mountain views.
Visit Granite Hot Springs
Or, if you'd like to relax closer to nature, drive south of Jackson to Granite Hot Springs, a natural thermal spring tucked away in the shadow of the Gros Ventre Mountains surrounded by serene forest and jagged cliffs.
Lodging
Visit our lodging page to compare options and discover which will be the best option for your party.