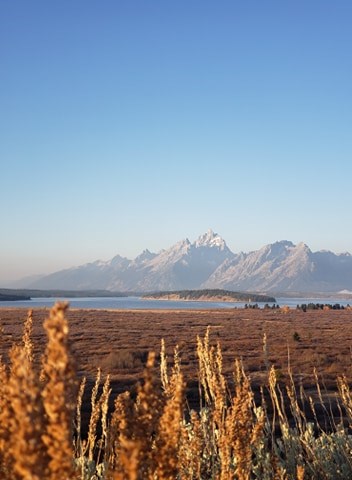 Jackson Hole has long, cold winters. The first heavy snows fall by November 1 and continue through April; snow and frost are possible during any month.
Mid-April, May, June
Mild days and cool nights alternate with rain and snow. Valley trails are usually snow covered until late May.
July and August
Warm days and cool nights prevail, with afternoon thundershowers common.
September, October, November
Sunny days and cold nights alternate with rain and occasional snow storms.

December through mid-April
Between storms the days are sunny and nights are frigid. Snow blankets the mountains and valley. Vehicles with four-wheel drive, all-wheel drive, or all-weather tires are recommended for winter travel, roads may be closed during blizzards. Drive at or below posted speed limits as conditions warrant; moose and other wildlife are often seen crossing roads during the winter.
Recommended Clothing
Rain gear is recommended during spring, summer and fall. Sub-zero temperatures are common throughout winter and demand multi-layered clothing, hats, mittens and cold weather boots.
Annual Weather Averages and Conditions
Month
Avg. Max. Temp (F)
Avg. Min. Temp (F)
Avg. Precip (inches)
Avg. Snowfall (inches)
Avg. Snow Depth (inches)
January
26.1
.09
2.62
43.1
27
February
31.0
3.2
1.89
28.7
33
March
39.4
12.1
1.61
20.3
30
April
49.3
22.3
1.52
9.5
12
May
60.9
30.8
1.95
2.4
0
June
70.7
37.3
1.74
0.1
0
July
80.6
41.6
1.15
0
0
August
79.2
39.7
1.33
0
0
September
69.3
32.1
1.40
0.4
0
October
55.7
23.2
1.44
4.7
0
November
38.3
13.6
2.14
23.4
4
December
26.5
1.8
2.55
39.5
16
Annual
52.3
21.6
21.33
172.2
10