Sustainable Lodging
Guests are encouraged to take the Sustainable Stay Pledge to promote sustainable living in the park. In return for taking this pledge, we reward our guests with $5 per night off your room rate, with a stay of 2 nights or more.  We will also donate $1 for each night of your stay to a foundation that supports sustainable efforts in Grand Teton National Park.
Take the Sustainable Stay Pledge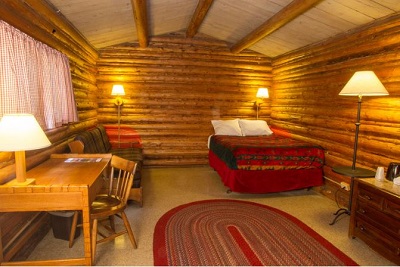 Say, "No, thank you," to daily housekeeping and conserve energy and water
Turn the lights off and heat down when leaving the room along with unplugging chargers not in use
Carry a reusable water bottle and take advantage of the Water Filling Stations found throughout the park
Use a reusable bag to carry your purchases
Use the Grand Teton Park Shuttle and START bus in Jackson
Consider a bus tour of Yellowstone in place of driving a car
Practice Leave No Trace principles while enjoying the park
Say, "Yes!" to the Grand Teton Foundation donation at lodging check out
Join our paperless campaign and utilize the electronic option when offered
Choose sustainable and/or healthy menu options when dining
In 2015, Jackson Lake Lodge underwent a major room remodel. In accordance with our strong commitment to sustainability, we upgraded to new eco-rooms. Sustainable features of our Guest Rooms include:
Energy Conservation – high efficiency lighting
Water Conservation - low flow fixtures
Recycled content carpet and mattresses – both made in the USA
Indoor air quality – low or zero VOC content in all products
Refinished historic furniture on-site with water based stains
Donated/reused 97% of renovation waste to regional charitable organizations
Bulk amenity dispensers
Green cleaning products
Towel and linen reuse program
Historic photos for artwork
Appetite for Life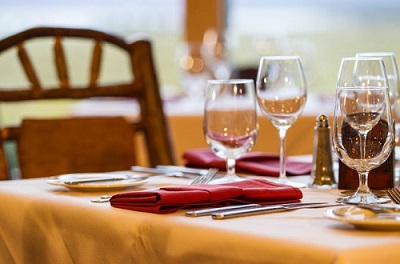 We encourage our guests to make food choices that are both healthy and sustainable. GTLC's restaurants established a sustainable cuisine program in 2003 with criteria that integrates sustainably sourced, organic, natural, seasonal, local and regional food and beverage components that incorporate the opportunities and challenges of the remote Jackson Hole. Our menus provide a variety of choices of both healthy and sustainable options allowing guests to choose meals based on what matters to them. We operate on the belief that good food is fuel for a life well lived. Guests that wish to help us promote sustainable food choices in the Jackson Hole area are encouraged to make donations to Vertical Harvest, a local non-profit that provides fresh local produce for the community.
Sustainable Features - Sustainable Cuisine Menu offerings include:
Seafood meeting the Best Choices category of the Monterey Bay Aquarium's Seafood Watch List
Organic dairy products and cage-free eggs
All-natural, hormone- and antibiotic-free beef, turkey and ham
Wyoming grown and finished Bison and Beef
Organic produce, sugar, flour, honey, cereals, polenta, etc.
Fair Trade Chocolate and Local Jackson Hole made chocolate amenities
Sustainable menu choice for groups and conferences

We provide Seattle's Best Coffee products which meets all aspects of the Starbucks Responsibility Program.
We partnered with Snake River Brewery in Jackson, WY to produce their first organic beer offering – OB-1, and now several local microbrews are offered along with sustainable wines.
We use and provide bulk condiments throughout our kitchens and restaurants.
We use durable, reusable and washable plates, bowls, cups, and with reusable flatware for all food outlets. Our china is made in the USA.
For carryout items, GTLC only uses recycled content and/or biodegradable/compostable (non-polystyrene) products for all single-use items, disposable paper products, and take-out containers. To-go lunches are packaged in reusable bags.
Healthy Features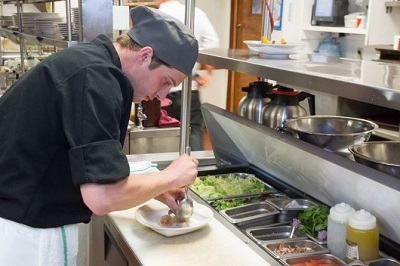 Jenny Lake Lodge and Jackson Lake Lodge Mural Room strive for 100% scratch kitchens
In-house bakery and butchery facilitates fresh, appropriately portioned offerings
All cooking oil is 100% trans-fat free
Used cooking oil is donated to local biodiesel users
GTLC generates a significantly lower quantity of used cooking oil than comparable operations because of our healthy cooking initiatives
Beverage options include – non-fat milk, sugar-free, and no high-fructose corn sugar
Fruit and/or vegetables are offered as a choice of side (for kids menu items also)
Gluten-free, vegan, and low-fat options are available
Educational Features
GTLC personnel are leading the effort to bring composting facilities to Teton County Wyoming
We support Vertical Harvest, which is a 3-story greenhouse in Jackson, WY that provides employment opportunities to citizens with disabilities and grows premium grade vegetables and fruit year-round.
Use the Monterey Bay Aquarium Seafood Watch Pocket or Mobile Guides when ordering seafood
Take advantage of the Water Filling Stations found throughout the park
Teton Wellness
In association with the National Park Services Healthy Parks Healthy People program, the Grand Teton Lodge Company developed Teton Wellness. This program is designed to promote:
Active living and recreation through association of caloric expenditure with different hikes and activities in Grand Teton National Park
Mental and spiritual health through encouraging people to actively enjoy the National Parks and the outdoors
Nutritional understanding by expanding the information available on a number of our menu offerings to include caloric intake
Grand Teton National Parks "Hiking to be Healthy"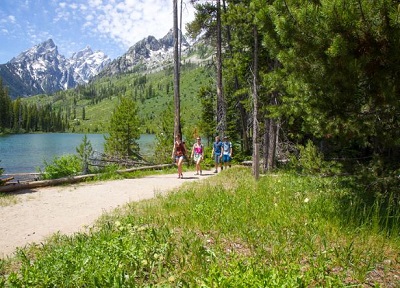 Due to the expansive trail system, everyone can find a suitable trail in Grand Teton National Park. While some trails are considered easy, others are strenuous and only for the experienced. The trails provide the best views of the park from beautiful vista overlooks to wild flowers of every color. Hiking is an excellent exercise for all, and its positive impacts are numerous. This low impact exercise improves cardiorespiratory and muscular fitness, lowers the risk of high blood pressure, reduces depression, helps with weight control and can improve your night's sleep. Personalize your hiking experience to the best exertion level and interests for you. The hiking descriptions below will allow you to better determine the hike that is appropriate for you, as well as show you some of the personal benefits for your fitness goals.  Grand Teton Hikes
Grand Teton Lodge Company Activities
Hiking is not the only way to stay active while in the park. Grand Teton Lodge Company provides a whole host of activites for guests of all ages and activity levels. The variety of activities we provide show how fun and exciting it can be to spend time in the great outdoors. You'll be having such a great time taking in the activity, you'll barely notice all the calories you'll be burning. Grand Teton Lodge Company Activities