Zero Landfill Partnership &
Pre-Consumer Food Waste Diversion Program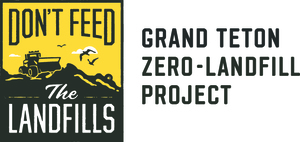 In Grand Teton National Park, we see our role as a concessionaire is to not only serve our guests well, but to also closely partner with the National Park Service (NPS) in environmental stewardship. Since 2015, we have focused on diverting food waste from landfills. With 3.5 million guests visiting the park annually, it has been no small task. Our culinary team has been playing a major role in those efforts and in 2015 made a more concerted effort to identify ways to reduce waste in our kitchens. With a strong recycling program in place but no composting opportunities due to wildlife attractant concerns, food waste became an obvious opportunity.
Our Initiative: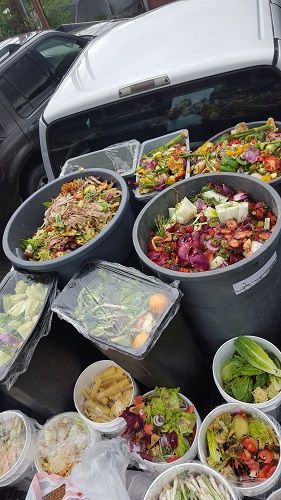 We decided to reach out to local farms that may be using or want to use composting as part of their sustainable farming practices. Through this outreach an innovative pilot project was conceived with our culinary team at Jenny Lake Lodge and a local farm, Kelly Garden Project. Jenny Lake Lodge is one of our smaller operations, and Kelly Garden Project is a small chicken and vegetable farm in Kelly, WY, just outside the Park boundary. The farm could not handle any post-consumer food waste, but they were willing to feed their chickens and/or compost our pre-consumer food waste – uncooked vegetable and fruit trimmings, peelings, stems, rinds, etc. generated during food preparation. It was a great opportunity because this type of waste had become more voluminous in recent years as our culinary team has been preparing more fresh foods from scratch as opposed to unpacking pre-prepared foods – a key aspect of our healthy, sustainable dining program. During our 2015 operating season (May to October), pre-consumer food waste generated at Jenny Lake Lodge was collected by kitchen staff in five gallon buckets and transported several times a week to the Kelly Garden Project and fed to chickens or composted. The farmers also allowed Jenny Lake Lodge staff to harvest vegetables from the garden to be prepared for guests.
Our Partnerships:
Simultaneously, the National Parks Conservation Association partnered with Subaru of America, NPS, and park concessioners to advance zero-landfill practices starting with three iconic national parks – Denali, Yosemite, and Grand Teton. An NPS lead team formed to tackle waste diversion at Grand Teton. The team includes several NPS staff, GTLC, Signal Mountain Lodge, and several local partners such as Teton County Integrated Solid Waste and Recycling and Teton Science Schools. The timing was ripe with our recent pilot project effort at GTLC to divert pre-consumer waste. To form a baseline for the project, a waste characterization study was conducted and found that 65% of the total waste generated in Grand Teton was attributed to GTLC and 44.5% of the total waste stream was identified as organics, mostly food waste.
Recognizing the need to work even more rigorously with NPS to find solutions to our role in waste diversion, we began looking at scaling up the pre-consumer food waste pilot project we started at Jenny Lake Lodge and Kelly Garden Project. We expanded the program to include Jackson Lake Lodge, a much larger operation serving thousands of guests and hundreds of employees. In order to scale the program up, we found another local partner, Purely by Chance Farm in Alta, WY, with a bigger operation that included pigs, chickens, and composting. During our 2016 operating season (May to October), in addition to continuing the program at Jenny Lake Lodge, we diverted all pre-consumer food waste from Jackson Lake Lodge. Food waste was delivered to the Town of Jackson where the farmer worked his day job (his wife being the full time farmer). He then took the food waste to their farm in Alta, WY and mostly fed it to their pigs and chickens, composting what remained.
Project Results:
During the pilot phase of the project in 2015 we diverted 3,400 lbs. of pre-consumer food waste at Jenny Lake Lodge from the landfill. In 2016 we grew the project by 406%, diverting 17,219 lbs. of pre-consumer food waste at Jackson Lake Lodge and Jenny Lake Lodge from the landfill. Our two year total is 20,619 lbs. – the equivalent weight of 89 full trash dumpsters in Grand Teton (or 15 adult bison).
By diverting a total of 20,619 lbs. of food waste from the landfills since 2015, we also decreased GHG emissions associated with food waste disposal. Food waste is a large source of methane and carbon dioxide (CO2) emissions once in the landfill because it digests anaerobically. Total emissions associated with landfilling food waste avoided at Grand Teton due to this project are approximately 15.9 tons of CO2 equivalent, equal to 34,570 miles driven by an average passenger vehicle.
Developing relationships with the two farms has not only resulted in diverting waste from the landfill, but also helped promote awareness and demand for local, sustainable food. For Park guests we hosted one farm-to-table dinner in 2015 and two in 2016, both with the farmers participating in the pre-consumer food waste project, bringing the food cycle full circle.
Lastly, our employees continue to learn and engage more with waste diversion and sustainability. Through the project our chefs and cooks became more conscious of food waste, learned and adjusted the new diversion systems to function smoothly, and thus became more engaged with the overall waste diversion and sustainability program. Further, all 1,200 seasonal and year round employees learned about the project during orientation and were encouraged to contribute ideas for continuous improvement.
GTLC is part of the NPS zero-landfill team and we have been sharing our efforts and collaborating with each other, the other major concessioner in Grand Teton, and with the Denali and Yosemite zero-landfill teams as well.
Learn More about the National Park Zero Landfill Project in Grand Teton: