Ceremony
Jackson Lake Lodge offers stunning views of the Grand Teton mountain range from the Southwest Terrace, where your wedding ceremony will take place surrounded by family and friends. Unlike other locations in the park, the upper lobby of Jackson Lake Lodge is also available as a back-up location in the case of inclement weather. View our Wedding Gallery
"The view from atop Lunch Tree Hill was spectacular and our guests were completely blown away. It was definitely the highlight of the day, and we both greatly appreciate everything you all did to make our wedding a beautiful one in front of the mountains."  - Morgan M.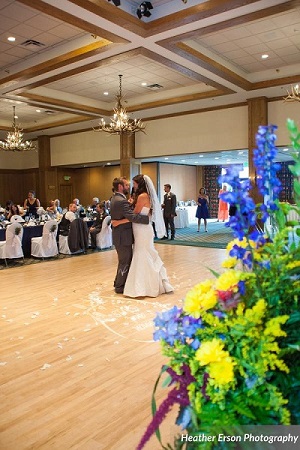 Reception
With 50 guests or more, the most sought after reception location is the Explorers Ballroom (pictured). The Ballroom presents Western elegance with elk-antler chandeliers and doors that open to a Sunset Terrace with a mountain view. The ballroom also includes a dance floor.
For smaller weddings looking for an intimate dinner, the East Mural Room is a semi-private reception room with a mountain view, and magnificent murals painted by Carl Roters.  Non-mountain view banquet rooms are also available for smaller or parties on a more economical budget.
Also, with our staff of culinary specialists, we can create a memorable rehearsal dinner or an intimate wedding breakfast. View our Wedding Gallery
"Our guests want recipes! I was busy being a bride, so I barely remember the food, but the reviews are in and they are unanimous: fantastic!"  -  Holly S.
"Thank you for all you did for Lauren and Jesse's reception.  It was a very memorable event that far exceeded my hopes and expectations.  Your staff did an outstanding job with everything associated with the reception.  My compliments to the entire staff."  - David O.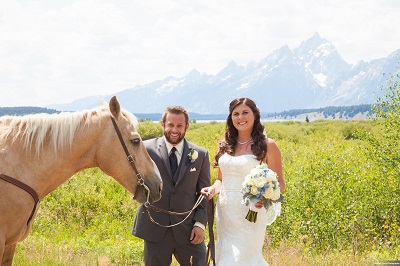 Wedding Activities
Depending on the length of your stay, we recommend several activities that are sure to create lasting memories. Charter a lake cruise at sunset or a scenic float trip on the Snake River surrounded by family and wildlife. You can also try a classic Western horseback ride with a picturesque wedding photo at the famous Oxbow Bend, or explore the impressive views of Yellowstone to the north. Some activities also have the option to be your rehearsal dinner.  The outdoor activities in Grand Teton National Park will be memorable and unique experiences for your guests. View our Wedding Gallery
To make planning easy, Jackson Lake Lodge offers inclusive Wedding Packages, or you may choose from our full Banquet Menu.  Answers to commonly asked questions, including rehearsal dinner options, may be found here: Commonly Asked Questions.  If you are looking for pricing, we'd love to speak with you further about your wedding since we have a wide variety of options.  You can also view our Wedding Gallery.
Contact us
307-543-3005 
gtlcsales@vailresorts.com
Photos by Heather Erson Photography and Katy Gray Photography