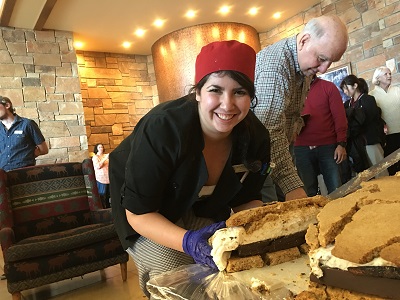 Hours and Wages
Grand Teton Lodge Company follows the minimum wage provisions of the Federal Fair Labor Standards Act as well as applicable Wyoming state laws. Wages compare favorably with those paid by other seasonal National Park concessionaires.
Most entry-level positions pay $9.25 per hour with dorm housing provided (employee RV Park available for a separate site fee).
Work schedules will vary based upon time of season. Early and late season shifts may be less than 40 hours a week. Shifts during peak season can range from 40- 48 hours a week. The Company is under no obligation to provide a work schedule for any definite number of hours during any day of the week. Scheduled work days may fall on any day during the week, including holidays. Overtime pay for hourly employees occurs after 56 hours per week.
Internships
Although internships are not offered by the Grand Teton Lodge Company, the positions and experience we offer may meet internship opportunities provided through your college or university. Each summer we do have numerous employees complete internships through their degree programs. Please contact our Human Resources Department for more information at HR@gtlc.com or at 307-543-3068.
Drug Free Workplace
We are committed to providing a drug-free workplace. Wyoming state law does not permit the medical use of marijuana and marijuana is illegal under federal law, with or without a prescription.
Employees will be required to submit to a drug and/or alcohol test under the following conditions: after a work-related injury, any accident which results in damage to company property or company vehicles, or reasonable suspicion of being under the influence of drugs or alcohol. Pre-employment and random drug tests are necessary and conducted on a job specific basis. Refusal to submit to a test or a positive test will result in termination of employment.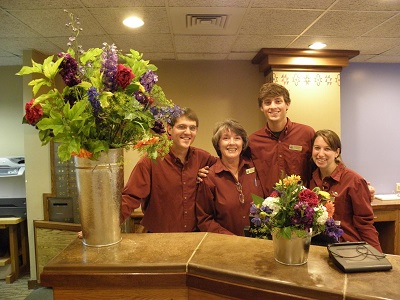 Grooming Standards
We know that departments, locations and positions are all different and the details for distinct operating groups may vary, including personal grooming and how you dress. No matter who you are or what you do, that first impression is always important. To be at your best, follow your location or department's dress code, and talk with your Supervisor about any specific presentation requirements for your job.
These are the basic presentation expectations. If you come to work violating the policy listed below, you may not be permitted to start your shift. If due to a sincerely-held religious belief or disability you are not able to meet the standards and/or would like to request an accommodation, please contact Human Resources.
Hair - Hair should be clean, professional and kept back from the face. Extreme styles (e.g. mohawks) are not permitted.
Facial Hair - Beards, goatees, sideburns and mustaches are allowed up to ¾" length maximum and must be neatly trimmed at all times. Otherwise, staff should be clean-shaven. Extreme styles are not permitted.
Nails - Fingernails should be clean and short or moderate in length. Polished nails should be maintained and in good condition.
Jewelry & Piercings - All jewelry must be professional in appearance. One small nose stud is allowed. Up to two earrings or one solid gauge up to ½" maximum in each ear is allowed. All other facial jewelry or visible body piercings, including additional nose rings, gauges and tongue studs are not permitted. Concealing jewelry with a bandage or other means is not permitted.
Tattoos - Employees may have visible tattoos, except on the face and neck area, that are in good taste and not offensive. An employee may be asked to cover their tattoo with clothing while on duty and must comply if requested.
Clothing/Hygiene - Employees are expected to dress professionally and follow all reasonable personal care standards, including regular bathing to avoid offensive or excessive odors such as body odor and/or perfume and cologne.
Footwear - Employees are expected to wear footwear appropriate for their position and in good condition.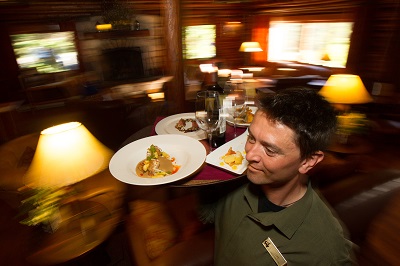 Uniforms
Certain positions require employees to wear a uniform while working. Employees are expected to wear uniforms in the appropriate manner. Nametags must be worn and jackets zipped up to above nametag level. All hats, where permitted, must be worn facing forward.
During off-duty hours, neat and appropriate dress is required in any public areas or at any Company events or activities. Your uniform is to be worn only while you are working and should not be worn off the premises after working hours. Your uniform must not be worn while shopping in retail stores, in bars or restaurants, or while consuming alcohol, while on your free time. If using a meal voucher, the employee may be in uniform but must get the meal to go and eat out of public view.
Medical Attention
Work-related injuries are covered by state-maintained Worker's Compensation Insurance. A medical clinic is located at Jackson Lake Lodge and a hospital is in the town of Jackson. If you are under medical care we encourage you to consult with your doctor as our location is at an elevation of approximately 6,800 feet.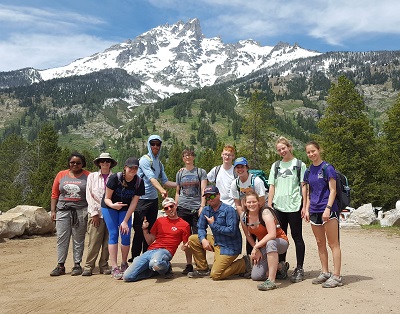 Opportunities to Give Back
The Green Team program allows you to give back to Grand Teton National Park by volunteering to help clean up trails, restore historical cabins and preserve the place you call home. As a company we really care about the environment and sustainability. Check out some of our initiatives.
Accepting a position
If we are able to offer you employment, you will receive a job offer letter outlining your position, wage, scheduled arrival date, start date, expected end date, and other information. Please do not accept our employment offer unless you intend to work the full dates on the offer.
All employees must be willing to perform duties as assigned. The Company reserves the right to modify positions, duties, location, and hours.
Upon arrival for work, all new and returning employees must present valid documentation that meets the requirements of the federal government's I-9 form. Without proper documentation we will be unable to allow you to work and you will have to leave the property. All documents must be unexpired originals. For information on acceptable forms of documentation, please visit http://www.uscis.gov/.