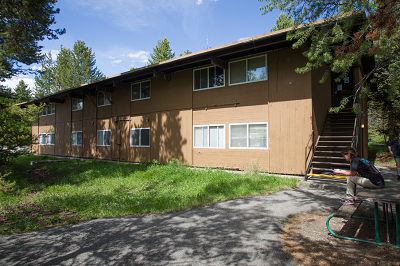 Dorm Life
Seasonal employees at Jackson Lake Lodge, Colter Bay Village (pictured), and Headwaters Lodge & Cabins at Flagg Ranch are housed in furnished dorms. Nearly all employees share a room with one or more fellow employees. Some rooms and cabins accommodate up to four people.
Jackson Lake Lodge, Colter Bay Village has dormitory style bathrooms located centrally inside. Jenny Lake Lodge has a central cabin with shared bathroom facilities. Flagg Ranch dorms have their own shared bathroom inside the room. Jackson Hole Golf and Tennis has shared bathroom facilities between private rooms.  
See the dorms and employee village at each property: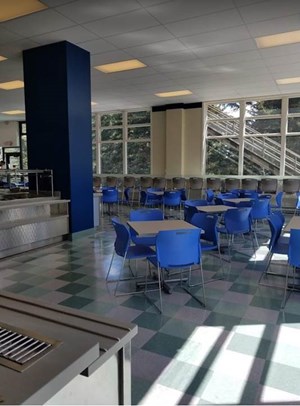 Room & Board Fee: All employees are charged a Room & Board fee of $95/week deducted from each paycheck. 
Room and Board Fee covers:
A bed in dorm housing (EH unit)
Linens: pillow, pillowcase, sheets, blankets, and towel
All utilities: heat, water, electricity, garbage, and sewer
3 meals/day in the employee dining room (EDR) including bag lunches
In addition, all employees have access to complimentary services such as:
Employee shuttle services
Wi-Fi
Lanudry facilities
Employee gym access
Use of rec halls and common areas
Facilitiated employee recreation activities
GTLC guest activities are free to employees based on availability. Activities include:
Horseback riding
Canoe/kayak/motor boat rentals*
River raft trips
Lake cruises
Breakfast and dinner lake cruises*
Lunch and dinner raft trips*
*Activities involving a meal are provided at the cost of food. Motor boat rentals are provided at the cost of fuel. 
RV Park Life
The GTLC Employee RV Park has a limited number of sites available. There are water, electric (30 and 50 amp), and sewer hookups at each site. These are suitable only for hard sided, fully self-contained RV's (no tents or pop-up campers). Resident comfort stations are located throughout the RV Park and provide laundry, shower facilities and limited Wi-Fi Internet (except at Flagg Ranch.)
All RV sites are charged a daily fee of $8.50 per day at Colter Bay Village and $7.50 per day at Flagg Ranch. This is a per site fee. Two pets are allowed per RV site and must comply with company and NPS guidelines. Guests are allowed to visit and stay in employee RVs but must register with the Employee RV Park Manager, and may stay no longer than seven days. RV employees are not enrolled in the weekly meal program but do have the option to purchase meals in order to eat in the Employee Dining Room.
All RV sites are assigned by Human Resources. Specific site requests are not guaranteed. We have limited space in the RV Park, so please let the Hiring Manager know if you would like to live in the Employee RV Park during the interview process.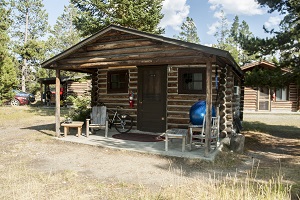 Housing and RV Park Rules
Employees are encouraged not to bring valuable personal possessions as they may be difficult to secure.
All employees living in the dorms must be at least 18 years old. There are no facilities for families with children.
No pets in seasonal dorms
All company buildings including employee housing are designated non-smoking
Possession of illegal drugs is prohibited. 
Overnight visitors are not permitted in the employee villages.
Firearms and fireworks are not allowed in the employee villages, employee RV park or in employee housing.
In order to live in the employee dorms or employee RV park all individuals must be employed by Grand Teton Lodge Company/Flagg Ranch Company.
Banks
There are many local banks in the town of Jackson. There are no banks within the Park, so you will need to go to town to set up a bank account. If you choose to have your paycheck deposited directly into a bank account, you can set this up at check-in or at any time during the season. It takes two pay periods to be activated. Please note that there is NO Bank of America in Jackson. The closest one is 2.5 hours away in Idaho Falls, ID. 
Get paid
Paychecks are distributed every 2 weeks on Fridays (one week after pay period end). It is possible, depending on your arrival date, to work 2-3 weeks before receiving your first paycheck, so please try to arrive with some extra money to cover this time period for any expenditures you might have.
Daily Shuttle Service
Employees are provided a daily shuttle service for the surrounding areas free of charge. 
Before you arrive - Things to Bring
Weather changes frequently and drastically at times. Dress in layers to maximize your comfort. Our summer temperatures regularly range between 20° and 85° F with snow possible at any time of the season.
 
Warm clothes such as a coat, sweaters, gloves, hats, and socks
Rain jacket and umbrella
Bathrobe, flip flops, and shower caddy (for community dorm bathrooms)
Flashlight or headlamp
Recreational gear (camping, fishing, hiking, biking etc.) 
Sunscreen and bug spray
Morning alarm options (that can operate without electricity)
I9 Documentation - For information on acceptable forms of documentation, please visit

http://www.uscis.gov/

-  Please don't forget these, as you won't be able to work without them!
Mail and Shipping
You can either have your mail delivered on site to the employee village office by using the property specific addresses or purchase a local US Post Office box.  Employee Village offices accept both UPS and FedEx deliveries.  Please be aware that we are no longer able to forward mail after your departure from the company if you are using the Employee Village Address.
Plane Travel
Jackson Hole Airport is the closest airport to our location, however you may want to search other airports and complete the remainder of your travel by bus.
 
Jackson Hole Airport, WY, (JAC) – 28 miles
Idaho Falls, ID (IDA) – 119 miles
Salt Lake City, UT (SLC) – 305 miles
Bus Travel
Alltrans and Salt Lake Express busses pick up in many locations in Utah, Idaho, and Wyoming and arrive in Jackson, Wyoming. Please visit their websites or call to make your reservation.

Alltrans – 1-800-652-9510 (www.jacksonholealltrans.com)

Salt Lake Express – 1-800-356-9796 (www.saltlakeexpress.com)

There will be free shuttle transportation for employees arriving by plane or bus to the Jackson Airport or town of Jackson. To take advantage of our employee arrival shuttle service, you must make arrangements with GTLC/Flagg Ranch two weeks prior to your arrival.
You are more than welcome to bring your own car.